BENGALURU: There was a time when most would be wary of disclosing they have been laid off over fears that people would interpret it as a reflection of their incompetence. But no longer. Many laid off by tech companies and startups in recent times have taken it in their stride, and are announcing it on social media so that they can get help in finding new jobs.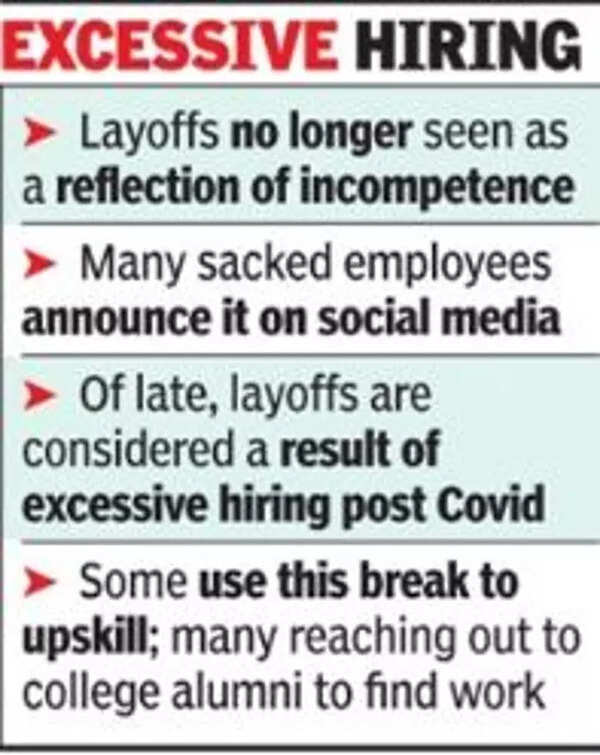 There's also wider recognition that the layoffs are not the result of incompetence, but excessive hiring post-Covid.
Shubham Sahu, an IIT Kharagpur graduate who joined Goldman Sachs right after college, was laid off six months after joining the company. "At the beginning of 2023, I was also impacted by the layoffs at Goldman Sachs just after my 23rd birthday. Wow this is truly a different way to start a year," he wrote in a LinkedIn post.
Harsh, who was laid off from Amazon, wrote on LinkedIn that he hadn't wanted to start 2023 like this.
'Layoffs are painful, but no more a doomsday scenario'
He said although his stay at Amazon was short, he was grateful for the opportunity he got to learn new skills and grow as a software engineer.
IIT-Kanpur alumnus Samyak Jain, who was affected by the Amazon layoffs, wrote that it was disheartening that people were being laid off without any performance considerations.
Many are reaching out to college alumni and professional networks to find work. An IITian who works in a tech firm told TOI on condition of anonymity that layoffs in his company were only because they needed to reduce the headcount. "Our manager said salary was a consideration to some extent on deciding who to lay off," he said.
Amazon is said to be laying off 1,000 employees in India, Goldman Sachs about 500. TOI reported on Tuesday that Indian startups are estimated to have laid off almost 20,000 employees in the past few months.
S Sadagopan, founder director of IIIT-Bangalore, said the layoffs are unfortunate and painful, but it's not a "doomsday scenario". "And it's not viewed as somebody's incompetence. Its social acceptability is reasonably okay, and there's hope that the next opportunity will be a good one," he said.